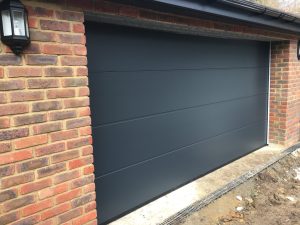 If you're lucky enough to have a garage to keep your car parked in, then it makes sense to make it as secure as possible by getting a secure garage door fitted. Whether your old door is damaged, or you're just looking to upgrade to something more secure, Ashford Security can help. 
We have years of experience in providing garage doors to customers throughout Ashford and the rest of Kent. Read for more information on the benefits that a garage door providers as well as the most frequently asked questions. 
The benefits a garage door provides
Improved security – Car thieves tend to be opportunists and target cars that seem like they'll be easy to steal. Unfortunately cars are stolen even from garages, particularly when there's a very weak garage door that looks like it would be easy to get past. Upgrading to a modern garage door prevents this problem since they're very secure. 
Improve the appearance of your home – Another benefit that getting a new garage door provides is improving the appearance of your home. You can choose from a range of styles and colours to suit the existing appearance of your house. 
Increase the value of your home – Improving the security and appearance of your garage also has the added bonus of increasing the value of your house, should you come to sell it. 
Lower maintenance – If you have an older garage door that's made from wood, then it's very easy for problems such as rot and paint chipping to occur. With a modern, steel garage door, you don't have these worries due to them being very low maintenance. 
Garage doors FAQs
Are garage doors affordable?
Yes, the garage doors we supply area usually within most peoples' budget. We have a range of different styles and sizes, so finding a model that's perfect for your budget and requirements shouldn't be an issue. 
What if my garage door gets damaged?
We also offer a garage door repair service, so if your new door gets damaged, there's no need to worry. 
How does installation work?
As well as supplying garage doors, we also install them. It's not recommended that you try to install a garage door yourself unless you have prior experience. 
Get in touch
If you're looking for a new garage door, then Ashford Security are here to help. Get in touch by giving us a call or using the contact form below and we'll be able to advise you further.