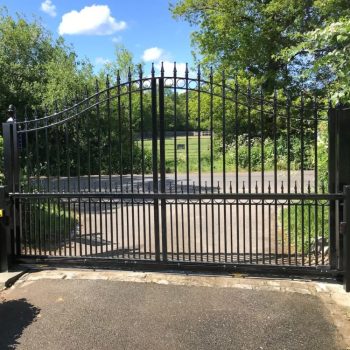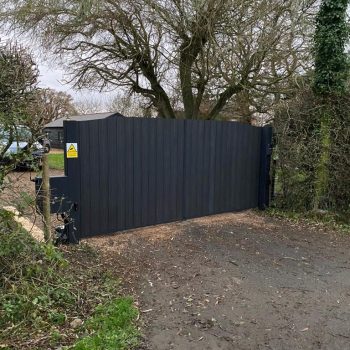 At Ashford Security, we supply and fit automatic gates for both commercial and domestic customers throughout Kent. We have years of experience in working with all types of clients, so no matter what your requirements are, we can help.
Automatic gates are an excellent way to make your property more secure as well as being incredibly convenient and adding a touch of class to your property. We have a range of gates in different styles, so you finding something that's a perfect match won't be an issue.
Benefits of automatic gates
Some of the main benefits of automatic gates are –
Improved security – One of the main benefits of automatic gates is that they greatly improve the security of your property. Whether you have a commercial or domestic property, being able to control who has access is an excellent way to make it more secure.

Convenience – As well as being secure, automatic gates are also very convenient to use. With the touch of a button, you can open or close them any time you need.

Easy access – Automatic gates aren't just good for improving the security of your property by preventing unwanted access but they're also great for providing easy access for people you want to allow onto your property. It's usually just a case of pushing a button to allow access.

Privacy – In addition to making your property more secure, automatic gates also improve the privacy of your property. Some types of gates offer more privacy than others. For example, wooden gates that don't have any gaps are preferable to steel gates if privacy is a primary concern.
Automatic gates FAQs
What type of gate is best for my property?
This will depend on the style you prefer and also much of a concern privacy is. If privacy is the number one factor, then wooden gates would be a good option. We can help you choose the right type of gates for your property based on your input.
How does installation work?
Fitting automatic gates requires expertise and how long it takes will depend on the size of your property and the type of wall they're fitted to. We have a lot of experience fitting gates on all types of properties.
What types of designs are there?
Automatic gates comes in quite a few different designs. This means you can pick one that not only provides security and privacy, but matches the style of your property too.
Get in touch
If you're interested in having automatic gates installed on your property, then Ashford Security can help. Give us a call or use the contact form below and we can provide you with more details about the types of gates we offer and the best solution for your property.
Automatic gates come in many different flavours, from a preset design to something more bespoke. If you wish, we can deliver upon your specific requirements with timber, steel, composite and aluminium materials. This means you may select something that not only provides you with security and privacy, but also matches the style of your property too.