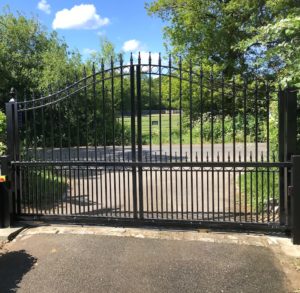 The benefits of electric gates in Kent
Some of the key benefits of getting electric gates installed on your property include –
Increase the value of your property – 

Having electric gates installed on your property can also help to increase its value. Electric gates are very desirable, since they not only look great but improve security and privacy too. If you come to sell your property one day, having electric gates could make it much easier to sell. 

Range of styles – 

Electric gates also come in a range of different styles, so you'll be able to choose gates that perfectly match the look of your property perfectly. 

Convenience – 

Convenience is another big benefit of getting electric gates in Kent. Being able to open and close your gate whenever you want with the touch of a button is a great benefit and means you're a lot more likely to keep it closed when you don't need access to the property. 
The benefits of electric gates in Kent
Some of the key benefits of getting electric gates installed on your property include – 
Improved security – One of the main benefits of having electric gates is that they improve the security of your property. Whether they're used for a domestic or commercial property, they help to make it that much more secure. 
More privacy – Another key benefit of electric gates in Kent is that they add more privacy. You can choose the style of gate you want, depending on how much privacy you need. More privacy is also great for improving security.